Lake Swimming in the Lake District
Well, where to begin? We are spoilt for choice for lake swimming here in the Lakes… Aspirant long distance swimmers are drawn to the classic swims of Windermere (at 10.5 miles, the longest natural lake in England), Ullswater (7.3 miles), Coniston (5.25 miles) and Derwentwater (2.8 miles). These swims provide amazing challenges in pristine environments, but present their own logistical challenges. There are some excellent long distance swimming events held on these lakes such as the British Long Distance Swimming Association which provide support and advice. Alternatively hire a qualified and insured swimming guide for the day from Swim the Lakes.
Lake Swimming; find your new favourite lake
Our "Lakes, Meres and Waters of the Lake District" chart features all of the swimmable lakes in this region. It will help you choose a lake in your area so you can get out there and swim.
Please note that you don't need to ask for permission to swim in the lakes where swimming is allowed but please don't trespass to get to the water. You will benefit from using a map of the lakes you intend to swim in so that you can work out the best means of accessing the water.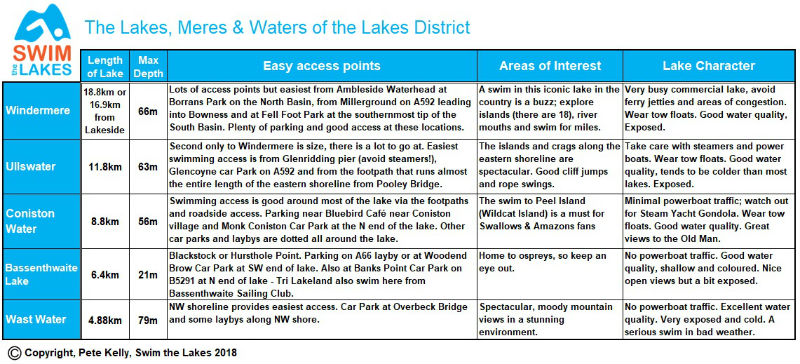 Lake Swimming Access
Access is very easy on popular lakes like Windermere that have lots of well-established public rights of way and parkland surrounding it. On others like Bassenthwaite, which is surrounded by private land, identify the footpaths and bridleways leading to the shore so you can access the lake from there without upsetting anyone or jeopardizing future access for swimmers.
Our top 3 favourite lake swimming locations
#1 Windermere Lake Swimming
The most iconic lake in the country and the longest at 10.5 miles. If you want to be considered a long distance swimmer then this is where you prove it. Swimming Windermere end to end is a fantastic lake swimming challenge and is one of the big 3 Lake District personal challenges (along with the Bob Graham Round fell run and The Fred Whitton bike ride).
We run a number of very popular guided swims on Windermere including the Windermere Wild Swim Adventure, our Introduction to Open Water Swimming Course, and The Secret Britain Night Swim.
#2 Rydal Water Lake Swimming
Rydal Water is our local pool here in Ambleside and is a firm favourite with locals and visitors alike. It is easy to get to (only 2 miles from Ambleside), there is good parking nearby along with a great pub and the water is relatively shallow in the margins making for safe swimming. The swim out to Heron Isle is lovely and very achievable for even inexperienced swimmers. The island is only 50m away from the shore and is wading depth most of the way round.
We visit Rydal Water on our Poet's Punt wild swim and well as the Wordsworth Wild Swim if you want to explore more with us at Swim the Lakes.
#3 Ullswater Lake Swimming
I love Ullswater because it has an interesting and varied shoreline, with plenty of islands to swim to at its southernmost end. It has to be one of the prettiest big lakes with a fascinating local history. As the second longest lake in the region it is also provides another great challenge for long distance swimmers but the exploration of the varied western shoreline and its islands, bays and crags are what excites me.
Swim the Lakes run a great swim called The Swim to Devil's Chimney on Ullswater which takes in all of the best bits of this wonderful lake.
If you see us out on the lake, give us a wave. Happy swimming from the Swim the Lakes Team.
Related Articles