For me, swimming in a swirling dub amidst a remote Lake District fell is the epitome of wild swimming. Whenever I'm guiding swimmers during an adventure swimming day out, it is always the wild swimming in the pools of the Lake District that puts big smiles on faces. It the kind of swimming you may have done as a child and it is an absolute delight to rediscover it as an adult.
If you speak to swimmers of a certain age here in Ambleside, they will tell you that they learnt to swim in the pools and pots of the local becks. And although their tales often feature an involuntary shiver, they clearly have very fond memories of their childhood swimming lessons. Looking into one of my favourite pools in Great Langdale Beck it is easy to see why. The beck rushes in at the head of the pool – a blast of soda water, and then swirls gently through the pool with its blue-green-turquoise pebble floor, reflecting the light through the water, before it cascades on downstream. "Wild swimming!" they always say, "we just used to call it swimming".
Wild Swimming in the  Pools of the Lake District- Secret Places
Getting someone to divulge their top wild swimming locations is often rather tricky around here. The secret places are often well hidden and sometimes only known to a few local folk. But with a little bit of fell craft and a spirit of adventure you can often discover your own wild swimming gems. Look for wild swimming in pools beneath waterfalls, the tight corners in fast flowing becks and long meandering glides on the rivers in valley bottoms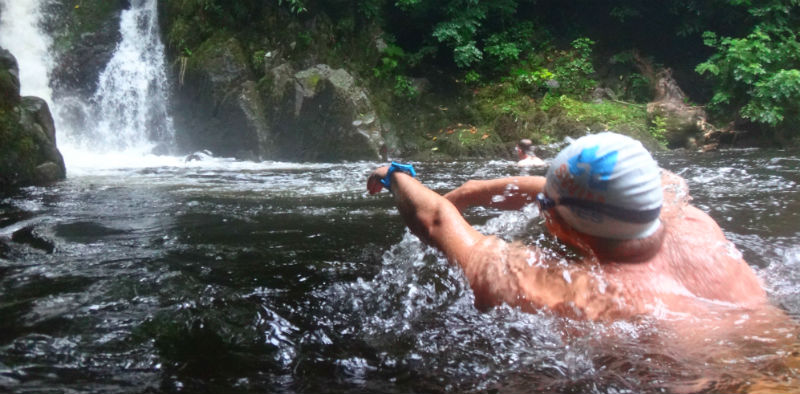 To give you a little bit of a head start here are some of the most enjoyable wild swimming locations that I'd like to share with you…
Wild Swimming in the Pools of the Lake District: Our Top 3
#1 Blackmoor Pot in Langstrath Beck
Also known as Blackmoss Pot, this is a very special place in the lovely Borrowdale valley which is heaven for outdoorsmen and women. It's a bit of a hike to get there but is well worth the effort. You can always stop off at Galleny Force pool for a dip, it breaks the journey up nicely and is an excellent pool in its own right.
Don't dally at Galleny too long though, Blackmoor Pot can get busy in the summer and you'll want to make the most of it. This dramatic cleft in the fell side just has to be jumped into from the sheer eastern side. You'll not want to leave.
#2 The pool at the base of Scale Force
Flowing from the steep valley between Starling Dodd and Red Pike in the Buttermere valley is Scale Beck which flows over Scale Force, which at 170ft is considered to be the highest fall in the Lakes.
The narrow, deep pool at the base of Scale Force is not a dip for the timorous. It's a bit of a slippy scramble past the lower falls to get there, and it's very much like bathing in a tornado, but pool dipping doesn't come any more exhilarating that this! We swim here during our  Utterly Buttermere Adventure Swim if you want to join us.
#3 "The Croc" on the River Brathay
This is a real local spot named after the ancient tree stump that juts out in the middle of the pool and resembles a gnarly old crocodile. It lies at the 90 degree bend below the confluence of the Rothay and Brathay rivers.
The Croc is a broad river pool with nicely shelving gravelly margins that drop into a very deep pool (I've never had the bottle to dive down into its depths!) before flowing out into the Brathay. It has been a popular wild swimming pool for time immemorial and is also popular with dogs, canoeists and fishermen.
On a warm spring or autumn day however you can have the place to yourself and it is a great place to relax after a hard day on the fells. At dusk or dawn I regularly see otters fishing here and sometimes red deer if I get there before dawn; it is a lovely place and just a short walk from our Swim the Lakes base in Ambleside. We swim here at the beginning of our Down the River Without a Paddle guided wild swimming trip. Come and join us, it's a perfect introduction to Lakes wild swimming.
See you in the water,
Pete
Related Links