Review: Gloves for Swimming in Colder Water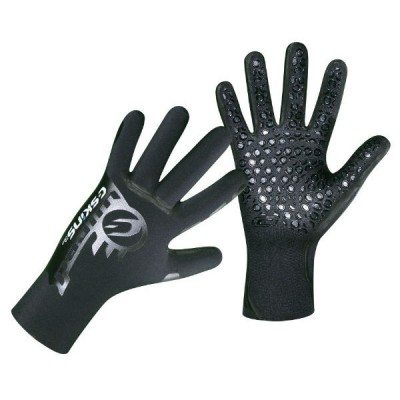 Swimming gloves and swimming socks help keep your extremities warm enabling you to stay comfortable for longer in colder waters. I suffer from 'white finger', even on hill walks and fell runs my hands can go solid white and numb, so I was really motivated to find a neoprene glove that I could wear to extend my open water swimming season and stop the painful hands.
Liquid Seam Seal
I had test run a few pairs and then came across C-Skins Wired Neoprene Gloves. The big difference with these C- Skins swimming gloves is the liquid seam seal, they are not simply stitched seams but sealed with a liquid rubber, this means it stops the flow of water through the gloves so hands stay warmer. Cheaper gloves that don't have the liquid sealed seams can hinder swimming as you tend to feel you're swimming with water filled bags on the end of your arms.
The C-skins gloves also fit nice and snug around the wrist which reduces water flow too and even better if you tuck the glove wrist under the edge of your wetsuit arm and hey presto, I can swim for a good few minutes before any water enters my gloves at all.
They are amazingly warm when swimming, the 3mm hold my hands in the right shape for my 'pull' too. I have worn the 3mm down to 3oC in Windermere quite happily.
I certainly recommend these gloves for open water swimming in cold water.
The Fit of Swimming Gloves
When buying these gloves for swimming try not to think of them as how you buy regular gloves, as you're not being dexterous with your hands when swimming but holding them in the 'paddle' position.
Neoprene also stretches when wet so you need to get the snuggest fit possible. They should be a tight fit when dry. If they are too big they won't be effective when swimming or against the cold.
I have found the small sizes, 3XS, XXS, XS, S suitable for women, with men tending to go for small or medium. I haven't met a lady yet who needed the medium for swimming but of course there is always the exception, that's just my 'rule of thumb'.
I don't have particularly small hands for a woman and I wear a size small, I can also get away with an XS. Overall my hand is 20cm from wrist crease to finger tip and approx 9cm across my palm. If you are a petite lady with small hands I'd suggest the 3X or XXS.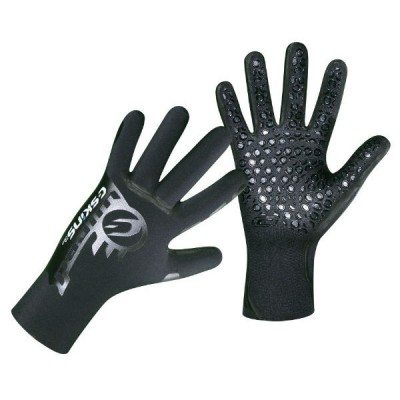 Customer Reviews for C Skins Swimming Gloves
'We love these …I'm now using the 2mm ( not so cold water) and switching to the 3 mm (M-J's favourite gloves ) for when it's really getting cold. Nutty Sporter'.
'I have a pair brilliant. S. Tonkin'.
I hope that's useful and happy extended swimming season 🙂
Andrea Tucker
Related Links:
Buy 3mm warm gloves for open water swimming >
Buy Warm Neoprene Swimming Socks >
Article: 10 Tips for Fitting Swimming Wetsuits >