I'm always looking for swimming goggles to range in our Ambleside store that will appeal to the many different kinds of swimmers we get walking through the door… I think I might have found my favourite so far.
The Kaiman EXO goggle looks like a low-profile version of other goggles in the Aquasphere range and is designed to offer an exceptional field of vision in a frame that offers little water resistance. Lots of goggles achieve this (I've tested nearly all of them), but none have been as comfortable and leak-free as the Exo. 
Aquasphere Kaiman EXO Goggle Features:
Softeril gasket and strap provide comfortable, watertight fit

Quick adjust lever buckles

Excellent 180-degree visibility

100% UVA and UVB protection anti-glare clear lens

Scratch-resistant & Anti-fog coating

Latex free

Ideal goggle for open water swimming, triathlon or pool training
The Exo has a very soft gasket that seems to work with a variety of face shapes to fit comfortably and to seal water out effectively. The strap works well too, it is very secure and really easy to adjust and because the seal is so good on the goggles, doesn't need to be set too tight. I've been wearing them for training for the last few weeks in a variety of conditions and they have past my hardest goggle test: I often forget I am even wearing them.
Pool swimmers will appreciate the sleek profile, triathletes will love the 180 degree field of view and anti-fog lenses and long distance open water swimmers will be very happy to wear them for hours and hours in the lake or sea with absolute comfort.
Click here to see more of the Kaiman EXO in our online swim shop: Kaiman EXO Goggles
Swim the Lakes are an official Aquasphere Test Centre and we have some of the finest open water swimming in the country on our doorstep, come on over and have a swim. Why not take a pair for a test drive next time you are in the Lake District? See you in the lake.
Pete Kelly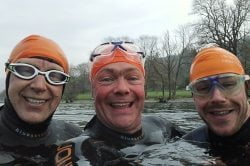 Swim the Lakes Test Team in Action this winter – Go boys!
Related Links:
Buy Open Water Swimming Goggles