I often get asked "where is a good place to swim?" at every time of year and I have my personal favourites based on what state the water is in, how close to a café/pub I want to be and what wildlife might be mooching around while I'm in the water (this really adds to the experience for me). The Elterwater Trilogy ticks a lot of these boxes.
The Elterwater Trilogy
Parking at the old disused quarry at Skelwith Bridge on the A593 just out of Ambleside is a good place to start (you could park at Chester's Café car park too if you get there early enough and fancy an outrageously priced but lush coffee and cake later?). Then it's just a short walk NW to the first swim, alongside the delightful Langdale Beck (which becomes the River Brathay) and Skelwith Force.
You soon come to the slower moving river flowing out of Elterwater itself; this is a great short river swim in itself and provides the perfect wild swimming "endless pool" experience if you try and swim back against the flow! Combined with a foray into the more tranquil Elterwater this makes for a great little swim of contrasts in crystal clear and generally weed free water at this time of year.
If you've been in for more than 20 mins at this time of year then you have done well as it's often much colder in Elterwater than in the lager lakes thanks to the direct catchment area straight off the fells. Then treat yourself to a visit to the Britania Pub in Elterwater Village just another short walk NW (20 mins) and warm up by the fire, a pint of good ale and a plate of their excellent food. Once you have walked off lunch, you must take in a lap of Lougrigg Tarn which is a real local gem – Wordsworth called it "…round, clear and bright as Heaven".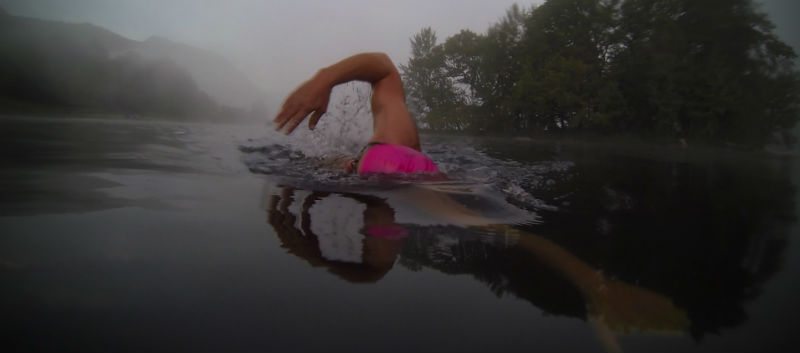 If you are keen you can walk there along the roads, but it's often better to drive along the back roads and park in the small layby next to the farm track and bridleway that leads to the farm campsite there. From there it's just a 10 minute walk to the paddock next to the tarn and a lovely little get in point among the lily beds.
Although it is at its best in summer with the lilies in full bloom and the great crested grebes ever present a safe distance away, Loughrigg Tarn is a great swim at any time of year and has good views along Lougrigg Fell (Meaning "Ridge of the Lough").
Now if you've swam all the swims – river, lake and tarn, AND walked all the way, you are allowed a huge slice of cake with your tea at Chesters – it will taste all the better and you get a good view of the beck while you enjoy your feast! Say hello to Ben behind the counter and give him our regards (he's one of us).
Hope you enjoy the swims, make sure to pop in to see us at Swim the Lakes in Ambleside we always love to talk swimming!
Ta ta for now,
Pete
Are you a keen winter swimmer? Take a look at our Winter Swimming Gear