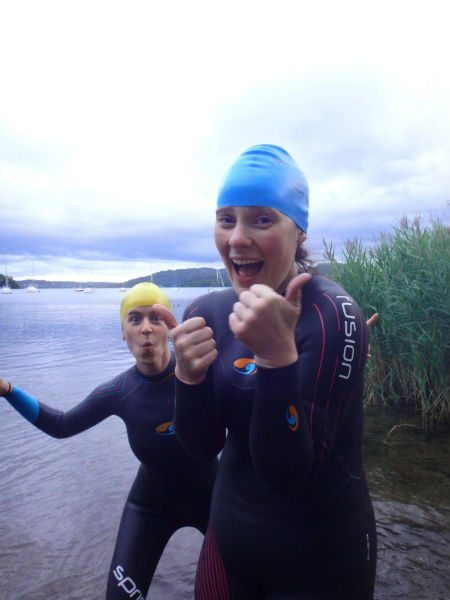 It was only 6.30pm on a moody September evening and we were jumping around like excited school children itching to get in the water. A fairly normal state of affairs prior to a night swim, but we were getting a bit impatient and silly, as the darkness seemed a long way off, and we had a secret we were dying to tell…
Any moment now we were to be joined by our fellow swimmer and presenter for the evening, Ellie Harrison and filmed by the
Secret Britain crew for their program on the Lake District. The full complement of our Lake District swimming friends had turned out to show off one of our best-loved swims, which leaves right from the Swim the Lakes doorstep at Borrans Park, on Windermere at Waterhead.
The swim along the northern shoreline offers plenty to explore – the River Brathay, Gale Naze Crag, Brathay Bay and the isle of Seamew Crag never fail to animate a swim here. But as we all know, everyth
ing becomes more exciting in the dark… Take away one of the senses and the others become heightened; night swimming is al
ways a calming and sensuous pleasure, best enjoyed in good company with a beach fire as a navigation beacon and hand warmer.
Ellie was a real charm to meet and once we got all of the interviews and inevitable faffing out of the way, she was clearly enjoying being in the water and swimming. As we all were: it was dark now and being under the spotlight of the cameras while swimming straight out into the inky depths of Windermere was a surreal experience that nobody wanted to end. The Lake Rangers and Wardens handling the RIB did a sterling job of looking after the film crew who were engaged in a very professional, in-the-water take with Ellie doing her thing, the rest of us were like flotsam and jetsam having our own experience outside of the camera lights.
Eventually, hunger drove us back to shore (fish & chips were calling) and the fire on shore was beginning to look very inviting. All too soon we were changed and warm and as the film crew and TV stars disappeared back to their hotel, we were all left thinking – did that really just happen?
It really did, and it's on the telly this Wednesday, BBC1 21:00. We hope you enjoy our secret swim?
If you want to join us for more exciting Lake District swims or perhaps even enjoy a Night on the Tarn, follow the links below – we'd love to go swimming with you.
Adventure Swim Breaks in the Lake District