For a number of years now, we've been giving feedback to the nice people at Blue Seventy on their wetsuit range – even a good range can always be improved, and it is clear from the changes and additions that they have made to their swimming wetsuits over the last few years that they are good listeners.
PLEASE NOTE THAT THIS WETSUIT IS NO LONGER MANUFACTURED BY BLUESEVENTY AND WE DON'T STOCK ANYTHING LIKE IT… SORRY. We recommend the Blueseventy Reaction for cold water swimming: Blueseventy Reaction.
The sheer pleasure of swimming
A growing number of swimmers, more taken with the sheer pleasure of swimming outdoors than slogging out laps in the pool, are taking to swimming through all four seasons. To qualify this: I'm talking about hard swimming, not just dipping or having a quick blast, but putting in some good quality training miles in Autumn-Winter water in low single figure temperatures.
Even some of the most enthusiastic swimmers I know would recoil in horror at the thought of swimming in such temperatures, but in truth it can be achieved with the help of the excellent open water swimming equipment that is now available, and just a little bit of acclimatisation (no insanity, inflated egos or excess bioprene required). Here's where the Thermal Helix wetsuit comes in – no doubt fuelled by requests from swimmers like ourselves and feedback from their sponsored athletes competing in challenging cold water events like the Norseman and the Otillo, Blueseventy have done a great job with this wetsuit. It looks like we'll all be able to come out of the water and actually function; rather than deal with mild hypothermia.
Award Winning
The design and specification of the award winning Helix wetsuit has been used as the template for the Thermal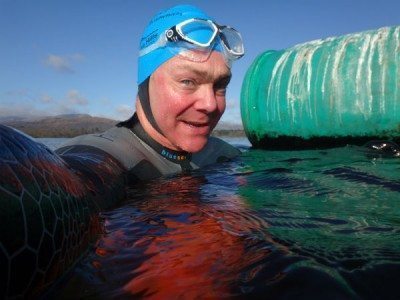 Helix, with a few crucial additions. The main factor, and the one that provides the warmth, is the addition of their Zirconium lining – an orange jersey material, like man-made wool that effectively creates loft within the suit without absorbing extra water (not unlike woolen loop stitch hiking socks). The overall fit seems to have been improved too, fitting much better around the mid-section, the lining feels very comfortable against the skin and the anticipated flexibility of the Helix is evident. The zip is a normal, zip-up-from-the-bottom zipper, which is a relief, as when I'm swimming in Stickle Tarn there is usually no one around to help zip me up!
Family commitments had kept me out of the water for the last few months so this was to be a very good test of the effectiveness of the Thermal Helix having completely de-acclimatised myself to cold water. I headed to a warming but still chilly Lake Windermere this morning (about 7 degrees) opting for full body coverage, and wearing all of the thermal neoprene accessories that complement as suit like this. I was able to get straight in and go for it, after only a mild bout of swearing; there are not many wetsuits you could describe as "cosy" in these conditions, but this was the first thing that came to mind with this suit. As open water swimming wetsuits go, I don't think you can beat the Helix construction, this suit swims the same with no restriction at all and with a good balanced body position (helping my not too perfect stroke along nicely but without being over the top buoyant). I'm lucky enough to get to try out lots of different top end wetsuits and I've always struggled to find a high performance wetsuit that is also warm in winter. Subsequently I use two wetsuits alternating between the Helix in the warmer months and the Reaction for cold water swimming.
The Thermal Helix feels like a straight up, all seasons, swim all day in, swimmers wetsuit that I can do everything in without it holding me back – it may be a bit overkill for the summer, but I'm not going to complain about being too warm in the water and I'm quite happy in my Speedos if it comes to that. At around 500 quid it's not a cheap option, but I spend so much of my time swimming I think it's worth every penny , and with wetsuits, you do nearly always get what you pay for – this suit is for people who'd rather be in the water than anywhere else thank you very much, and that suits me fiine. As well as the fact that sitting here writing this review, I'm actually excited about going back into the water again; which is what it's all about isn't it?
I think I have just found my perfect wetsuit – thanks Blueseventy… I give it 10/10.
Pete Kelly
My Kit List for this morning's swim:
Blueseventy Thermal Helix Wetsuit     Neoprene Skull Cap
Aquasphere Vista Goggle      Blueseventy Thermal Socks
C-Skins Wired Swimming Glove     Try Before you Buy Wetsuit Days at Swim the Lakes