Every once in a while, I come across a place, or return to a place, and it stuns me with how beautiful it is – this happens a lot in the Lakes, ensuring that I never take the place for granted despite living and working here.
This is the way I felt about my Great Escape to the western Lake District. The Western Lake District is a special place anyway, and doesn't get the crowds that the rest of the region does despite its beauty. Of course there is a reason for this… it's a bugger to get to.
If you manage to escape over the passes (an adventure in itself) and drop into Eskdale, you'll find it was worth the effort. It is a relatively easy walk to the Upper Esk from the layby parking place at Jubilee Bridge.
The undulating terrain and views of the classic climbing crags that are nestled in
this glacial valley make for a pleasant walk and draw your eye away from the ribbon of water that you are following at a distance, but when you reach the first significant pool of Tongue Pot, just before the old pack horse bridge (named after the Esk tributary that joins it here called Lingcove Beck), you realise that you have reached a little bit of wild swimming heaven.
Everything about the place is a delight – the views down the broad sweep of the surrounding fells, the viridian green of the water, the surrounding meadow dotted with dog violets, the perfect crook of the riverside tree which was just made to jump off.
I could spend a whole weekend here exploring all of the waterfalls, looking down at the lively little brown trout and jumping in to the pristine pools, and I know I'll leave with memories that will cheer me for ever and tug at me relentlessly until I return again.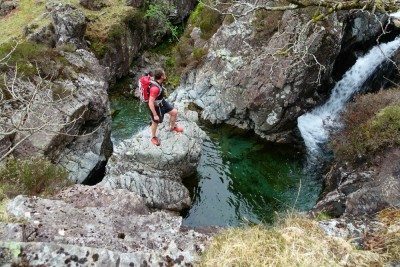 To join us in our great swimming adventure click here: Swim the Lakes Adventure Swimming