Endless rain poured down from the skies, as the Lake District prepared for our final guided wild swim of the season, a spooky Halloween swim.
The rain stopped and Halloween revealed its self as a mild autumn day bursting with all the colours of autumn and even before we left the car park in Grasmere we were treated to a visit from a passing red squirrel, a splendid start, now for the spooky.
A brisk walk following our guide Pete, took us up the valley following Sour milk Gyhll towards Easedale, as we climbed over the final rise before the tarn the wind whistled passed us and we knew this was going to be a wild one.
The tarn was leaping with white horses and finding a sheltered place to change proved a bit difficult.
But get changed we did and eased ourselves into the 8oC tarn.
There was no hiding from the wind; head-on we swim charging the horses, and watching the wind whipping the spray into a frenzy before us.
Now if the thought of a wild swim in an inky windswept tarn doesn't scare you, there was more to come.
Dead Man's Dub
After re warming in the 'party tent' the group headed down the valley following ancient tracks lined with moss covered stone walls.
Passed some interesting traditional Lake District buildings and through a field we were led by our  local knowledge to a hidden pot of water, dead man's dub.
It is here that bodies from the parish of Grasmere were washed before their final journey along the coffin route to Ambleside.
Mwwwwa hahahahaaaaaaaaaaaaaaaaaa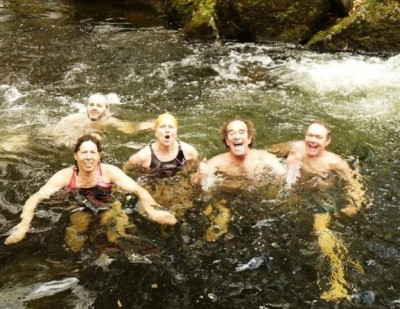 All the bodies leaping into the dub this Halloween were very much alive however and screaming words of frozen delight.
Make sure you come with us next time on our Ease in Easedale Wild Swim
More Interesting things: