Temperatures are dropping and you are struggling to find swimming friends, BUT YOU STILL WANT TO SWIM OUTSIDE! Well, I'm with you on that one; years of swimming outdoors have given me a serious aversion to over-chlorinated indoor pools and busy swim lanes. Why put up with that when I can have the whole lake to myself …in December… when it's bloody freezing.
Yes, it's cold but this has its upside. Swimming in cold water its self is another outdoor swimming experience altogether and you get a remarkable post-exercise high following an icy swim. There's certainly always plenty of room on the beach and in the water and the summer water-ski/gin palace brigade have all popped off to Courchevel to ski for the winter, so if you like your own space you are laughing!
So where to start your winter swimming adventure? Gradual acclimatisation is at the heart of being able to tolerate cold water swimming (see my Cold Water Swimming Tips article for more on this), but most swimmers will look to get suited up in neoprene for effective and enjoyable swimming sessions. The benefits of swimming in a well-fitted and insulated wetsuit will allow you to put a good bit of time in the water whether it is for training, competition or just for the sheer fun of it. It's also a hell of a lot safer due to the increased buoyancy and warmth it offers you.

Tips for a Winter Wetsuit
There are some great wetsuits available out there now and if you are serious about your swimming then here are our tips for buying a wetsuit:
Make sure the fit is spot on. This is the most important factor, even over quality and cost, an ill-fitting suit will restrict your swimming and allow fresh cold water to flush through, negating any benefit you might have gained in wearing it in the first place.
Get the best full suit (with full arm & leg coverage) you can afford. It will only add to your swimming experiences, making them far more comfortable and enjoyable.
Get a proper fitting from a knowledgeable retailer and try the wetsuit out in the water if possible. Check the fit, comfort, ease of movement, and take the opportunity to compare models.
Swim the Lakes are the specialist swim wetsuit fitters, find out more about our Wetsuit Fittings Service. We also host Wetsuit Try-On Events in the spring these are the perfect opportunity for you to 'try before you buy' and get the right advice from the experts.
The Blueseventy Reaction is still top of my winter wetsuit recommendations, the fit of this suit is second to none. The secret to the warmth of the reaction swimming wetsuits is the paneling and neoprene choice which gives a fit, not unlike a tailored suit. This gives an excellent fit around the upper body in particular (crucial for reducing flush through of water through the suit), and thanks to the use of super-flexible Yamamoto neoprene in all the right places, most body shapes can attain an exceptionally comfortable and effective fit.
How long can you stay in for? Comparisons between individuals are futile due to variations in physiology and acclimatisation, the best approach you can take is to acclimatise yourself and listen to your body, exit the water before you get the cold chills, and increase your time slowly and accordingly.
There are thermal-lined swim wetsuits on the market, some are out of reach for the average swimmers' budget, there are some at the better value end of the scale though, do your research and get the best fit first. As the demand for thermal lined wetsuits increases we will be stocking models that we as swimmers rate, so do keep an eye on our open water swimming wetsuit range at Swim the Lakes.
Under Wetsuit Thermal Layers
If you are still cold in your wetsuit or if you are a skins swimmer who can't quite bring yourself to wear a wetsuit, then you may want to try a neoprene thermal vest or baselayer. These are a great way of boosting the maintenance of your core temperature and allowing you to enjoy your swimming for longer; also a good way of warming up a less expensive wetsuit.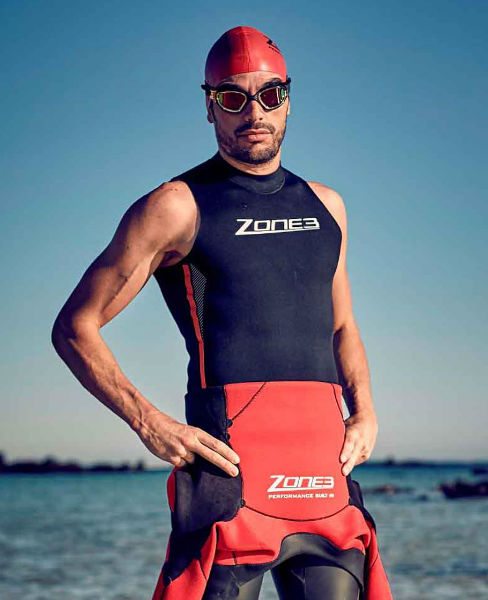 I find the new Zone 3 Neoprene Warmth Vest to be the most effective and the most specific to swimming with no restriction to the swimming action. You do have to take care when putting them on though as they tend to stick to your skin and are made of very soft neoprene. I find it best to turn it inside out and reverse-peel it on (technical term!).
The Zone 3 Vest works well on its own when pulled over a cozzie too, and is a good addition to the swim holiday or adventure swimmer bag.
I hope this article has helped you to pick a wetsuit and spurred you on to future cold water swimming adventures. If you need specific advice or want to view our gear suggestions please call in at our Ambleside shop and we would be glad to help you and offer advice.
For my article on Accessories for Cold Water Swimming just click this link.
Happy swimming, Pete 🙂