We often get asked 'which Lakes can you swim in the Lake District?'  But access to our beautiful lakes shouldn't be confusing if you are armed with the right information and a map. Always ensure you access any lake or water using public access, i.e. a public footpath / bridleway and follow the countryside code.
Below is a really useful chart showing which lakes you can and can't swim in in the Lake District. It also gives advice about other water users too, so you can choose who you want to share your water with!
If swimming is allowed then there is no need to contact anyone for access if you are swimming, though you may need to check you are taking a boat.
Access to Lakes of the Lake District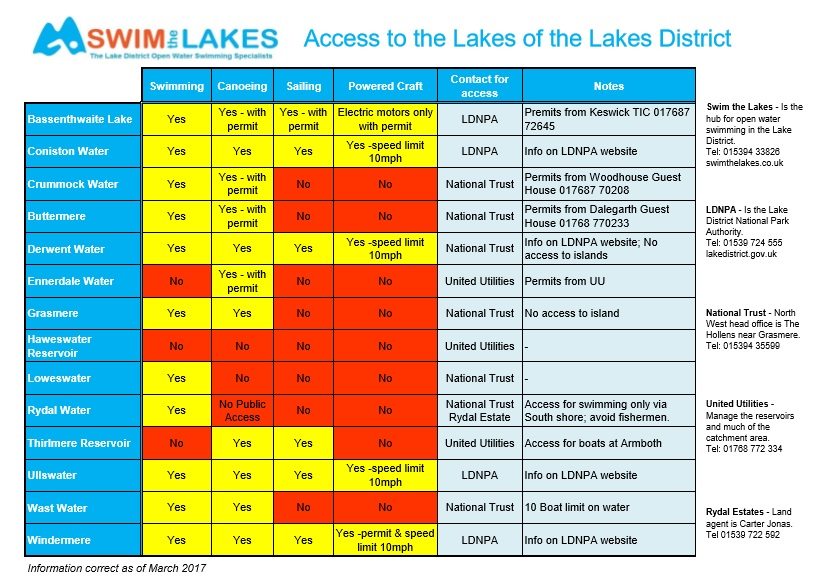 Public footpaths for access to the Lake shore are clearly shown on OS (ordnance survey) or Harvey maps, which are available from shops throughout the Lake District including Swim the Lakes in Ambleside.
So to answer the question, where can you swim in the Lake District? what you need now is your map and you can plan some wild swimming adventures. Please swim within your capability and have a buddy or a spotter. Do not climb walls or fences, follow the countryside code and the Lake District Swim Safe Code.
For more information read our following-up article Where to Swim in the Lake District.
Happy Swimming 🙂
Related Articles: