Swim Wetsuit Fitting Service
At Swim the Lakes we specialise in fitting wetsuits for open water swimming, ensuring our customers get the best from their new wetsuit.

Getting the right fit with swimming wetsuits is crucial, they are engineered to fit your body to provide buoyancy, flexibility, warmth and to provide maximum swimming efficiency.
If you want to own a wetsuit that enables you to swim faster and easier then ring us today.
Great wetsuit and great service! Thanks to you all at Swim the Lakes. Your advice was invaluable in selecting the right size and model of wetsuit for me – the Reaction.
It's good to deal with real swimmers who know what they are talking about – thanks again. Andrew
Premier Stockists of BlueSeventy & Zone3 Wetsuits
We stock Blue Seventy wetsuits in men's and women's sizes from the entry-level Sprint to the Reaction.  BlueSeventy are one of the most popular swimming wetsuit brands, they design great flexible suits at all price levels, we've dealt with BlueSeventy for a number of years and believe they offer something for every swimmer.
We also stock the Zone3 wetsuits, another great respected brand offering quality wetsuits and an alternative style and fit.
It's really useful, before coming to buy a wetsuit if you familiarise yourself with our range of wetsuits online. See our full swimming wetsuit range here.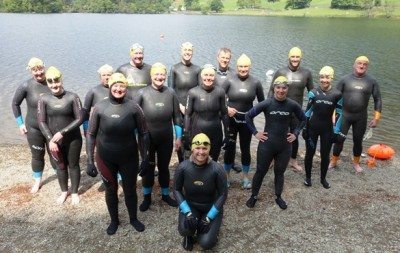 Wetsuit Fitting Service
Our expert wetsuit fitting service involves:
Consideration your build, weight & height for sizing
Consideration of your swimming goals and swimming style
Advice on how to get into your wetsuit for the correct fit and adjusting the fit
Using our expertise and experience to assess your optimal fit
How to look after your wetsuit and improve its life-span
The Result – you get a wetsuit that fits you for optimal performance, efficiency, and comfort.
We'll ensure you leave happy with a wetsuit that fits you and helps you attain your goals, whether that is swimming a personal best at a swimming event or simply staying warm and comfortable in the water while you dip and admire the view.
Our wetsuit fitting service is free to customers buying a wetsuit.
Don't worry about a thing, we understand swimmers come in all shapes and sizes, that's what we are here for. We will look after you, all you need to bring is your swimming costume/trunks and we'll do the rest. Our fitting service is only available to customers wishing to buy a wetsuit on the day.
COVID update: To attend an in-store wetsuit fitting you need to be symptom-free from coughs, colds, and sneezes. Fittings will need to be quicker than usual (max 30mins) so please familiarise yourself with our range of wetsuits online first so you can come prepared with an idea of the wetsuit brand/ style you would like. See our swimming wetsuit here.
To book a wetsuit fitting ring 015394 33826 or email us.  Appointments are not always necessary, but we do advise bookings especially at busy times such as spring/ summer Saturdays.
We will need a mobile contact number and your height and weight information plus an idea of the style/brand of wetsuit you are looking at and the budget you wish to spend.
We are usually open 9.30am – 5pm Mon-Saturday.
In Autumn /Winter our hours tend to be 10am -5pm. Please see shop opening times here.
Our main wetsuit selling season normally runs from April until early September, and we usually have some clearance or sale wetsuits available outside these times.
Wetsuit Try-on Events
We also run Wetsuit Try-on Events throughout the spring, these are the ultimate try before you buy, because we do the wetsuit fittings by Windermere and you get to test them out in the water with our support and guidance.

More information here: Wetsuit Try-On Events.
Buy your wetsuit from the wetsuit fitting experts and you won't go wrong.
Testimonials
Read some of our customer testimonials for swimming wetsuit fittings.
'Thanks to Andrea for the help, advice and fitting of the wetsuit today! Great knowledge and really helpful tips when trying and buying the BlueSeventy fusion. A great service from start to finish. I am really excited about trying out my first open water swim! Thanks again'. Caz, Newcastle up Tyne

Massive thanks today for helping me get the perfect wetsuit! Its taken me a while but you were great today and offered a really personal service. I've tested it out and its fab! Thanks again!
Deborah Robinson.
Click here to read more Wetsuit Fitting Reviews
Related Info
How to fit Wetsuits for Triathlon & Open Water Swimming